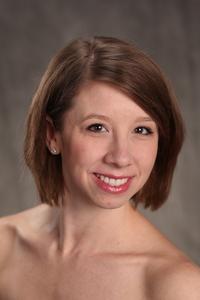 Elizabeth is a former member of Oberlin-based Ohio Dance Theatre where she had the privilege of dancing in theaters around the Cleveland area, including the Allen Theater at Playhouse Square and the Cleveland Playhouse. Highlight roles for her include Sugar Plum Fairy and Arabian Soloist in The Nutcracker, Spring Fairy and the Fairy Godmother in Cinderella, and a praying mantis in Artistic Director Denise Gula's La Petite Mort. In her later career, Elizabeth was been featured in roles of the ballets presented by the Olmsted Performing Arts Ballet Series under the direction of Janet Dziak, including Arabian Soloist and Sugar Plum Fairy in The Nutcracker and the Lilac Fairy in The Sleeping Beauty. She has continued to work under the direction of Dziak as a founding member of North Pointe Ballet where she has had the privilege of reprising the roles of Sugar Plum Fairy in The Nutcracker and Fairy Godmother in Cinderella. Elizabeth was recently appointed Development Director for the company and she is excited about helping NPB expand its presence in the community as it works diligently to fulfill its mission to make ballet experiences available to everyone.
Her educational and professional background is in early childhood education, which over the years has led her toward her current profession as an autism and behavioral consultant for which she is a Board Certified Assistant Behavior Analyst. In addition to this, Elizabeth enjoys teaching the next generation of young dancers at Rock City Dance in Middleburg Heights. Her teaching experience includes a wide range of early dance education classes as well ballet technique and pointe classes at the former School of Ohio Dance Theater and the Berea-based Olmsted Performing Arts, as well as guest teaching opportunities around Cleveland's west side. Her teaching approach is influenced heavily by her Vaganova-based training with Marta Jackson in Orange Park, FL as well as by her learning experiences with several Pilates teachers.
Perhaps the most thrilling part of her dance career is the opportunity to share the stage with her young son, Alexander, who recently made his dance debut in NPB's The Nutcracker as a little mouse. In Peter Pan, Alexander and Elizabeth will have the exciting, first-time experience of being in the same scene together.
https://northpointeballet.org/wp-content/uploads/2017/07/Headshot_Radachi_Elizabeth.jpeg
300
200
jgaines
https://northpointeballet.org/wp-content/uploads/2017/07/NPB_Logo_Header.png
jgaines
2017-07-25 23:02:53
2018-03-21 11:52:26
Elizabeth Radachi