Classically Trained, Professional Dancers
North Pointe Ballet is seeking dancers who identify as male for its 2023-2024 Season.
Positions include: company member, apprentice, and guest artist.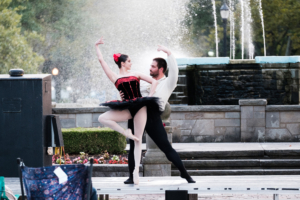 30-week contracts (Sept–May with breaks).
Pay scale varies.
Benefits include free classes, shoes, comp tickets, and athletic training.
Weekly rehearsal and community engagement tour hours: Tues & Thurs 9:30 AM–2:30 PM, select Sundays 12-5 PM.
Performances held at The Lorain Palace Theatre and Lakeview Park, with multiple community engagement performances across Lorain & Cuyahoga Counties. Classical ballet training required. Training in contemporary, theater, and partnering a plus.
Send résumé and dance photo to Melaina McConnell at melaina@northpointeballet.org to schedule a time to attend company class.
Advanced dancers ages 16 & up with availability to rehearse on Tuesdays and Thursdays 9:30am-2:30pm can inquire about NPB's trainee program. The program offers opportunities to train alongside the professional company, perform in full-length productions and outreach tours, and gain professional experience in other aspects of a non-profit arts organization, including theatrical production, choreography, teaching, administration, and marketing.
Interested dancers should email melaina@northpointeballet.org with résumé.